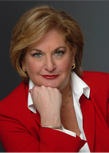 (610) 585-3612
Bonnie Grossman, ABR, ASR
Bonnie is recognized among the top 1% of Prudential Realtors nationally and among the top 1% of Realtors working in Center City Philadelphia and along the Main Line.  She has received the coveted "Top of The Rock" and won similar awards at her predecessor broker.   Coming from a successful career in retail sales management, Bonnie brings a passion to real estate and to working with her clients. 
She is equally comfortable working with buyers or sellers and displays the same passion for each.  Bonnie does not believe in taking a passive role in her work, she is actively involved with her clients every step of the way from first introduction to settlement and beyond.  She is also equally comfortable working with clients in Center City and along the Main Line, knowing most the areas very well.

Having formed The Bonnie Grossman Group in 2005, she takes an active role with all of the Realtors in the Group.  She makes sure that each client is getting the best service possible.  She makes a point to meeting all of the clients of the Group to let them know she is involved and available to them. 
As with all of her endeavors, Bonnie has an undying dedication to her profession and has achieved an extraordinary level of success and recognition in a relatively short time by doing what has to be done and recognizing that the client is always entitled to the highest level of service.
(215) 205-0501
Ken Marrama, CPA, ABR, e-Pro
Ken brings a different perspective to residential real estate and particularly, investment real estate. Coming from a successful senior management financial position, he approaches a real estate transaction as he would a business transaction.  He understands the needs of his clients, searches for properties that meet those needs, evaluates alternatives, determines the best opportunities and presents his findings to his clients for their evaluation and decision.  Do not be fooled thinking he is not passionate about his profession, he prides himself on meeting his client's needs and making them happy, he just does it in a different way.  As with Bonnie, Ken is comfortable working with buyers and sellers alike. 
In addition to residential sales, Ken's background provides an advantage that few other Realtors have when it comes to Real Estate Investment.  He easily understands the financial goals established by his clients and their tax, legal or financial advisors. He can then efficiently search for properties that meet their criteria and financial goals.  He has developed several computer models to assist in this process and it makes this process so much easier to understand and to act on. 
For residential clients, Ken covers Center City Philadelphia and the Main Line.  For his investment clients, he covers a much larger area covering most of the Delaware Valley.
Ken's work style and passion fit very nicely into The Bonnie Grossman Group.  He shares the same values and beliefs as Bonnie when it comes to customer service and staying involved.  This makes for a good fit.
He has also received the coveted "Top of The Rock" sales award.
  "Experience, Service, Know How...
You're Going To Want Us On Your Side"